Texas' Senate Committee on Criminal Justice voted 5-0 this afternoon to advance Senate Bill 538, which would repeal the state's law banning sodomy, Equality Texas reports: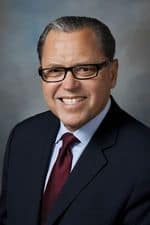 SB 538 would repeal §21.06 of the Penal Code, the Homosexual Conduct Law, which was declared unconstitutional by the United States Supreme Court in the 2003 Lawrence v. Texas decision. The bill would also amend the Health and Safety Code to delete the statement that "homosexual conduct is not an acceptable lifestyle and is a criminal offense under §21.06, Penal Code."
SB 538 is the first legislation ever filed in the Texas Senate to repeal the unenforceable §21.06 of the Penal Code. Identical legislation has been filed in the Texas House this session [HB 1701 by Farrar and HB 3232 by Coleman] and in every session since the Lawrence v. Texas decision.
The legislation was filed by Senator José Rodríguez of El Paso.
"This defunct law was the grounds for police to harass patrons of restaurants in my district resulting in a suit against the city of El Paso," he said, describing a 2009 incident where police arrested a same-sex couple for kissing. "Not only is the continued existence of this law on the books a source of misinformation to law enforcement, but in my own district local governments have been forced to spend their limited resources due to this misuse."