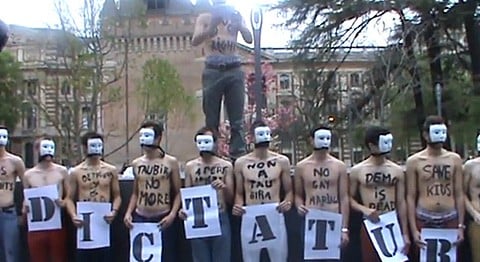 The French National Assembly is set to give its final approval today on marriage equality:
The bill, which would also give same-sex couples the right to adopt, was approved in the Senate earlier this month.
Since no amendments have been made during debate in the lower house, it will be the final vote on the legislation. The measure is expected to pass.
The left, which includes President Francois Hollande's governing Socialist Party, dominates the National Assembly, where the bill was approved by a large majority in February on its first reading.
Hollande will have to sign the bill before it becomes law.
More anti-gay rallies are expected after the vote today. As you know, there has been much violence associated with the opposition.
Police say legions of officers and a small battery of water cannons were at France's National Assembly on Tuesday to prevent a repeat of previous street violence. A spokesman for the police union UNSA, Christophe Crepin, said the extraordinary security was in place to protect the city's gay community.
Here's video of a rally that took place last week in Toulouse in southern France in which a group called Hommen Toulouse demonstrated in the city's Charles de Gaulle Sqare where they burned the letters of the word democracy, gave speeches, and stood shirtless and gagged, with anti-gay messages on their bodies.
Watch, AFTER THE JUMP…
Make sure not to miss a Towleroad headline by following @TLRD on Twitter.