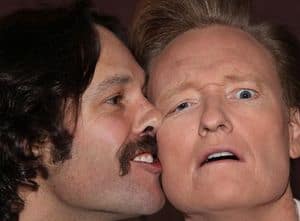 PHOTO OF THE DAY: Conan O'Brien and Paul Rudd squeeze in for an intimate selfie.  
BY SAM GREISMAN
A look back at today's top stories
WINGNUTTERY
If you haven't watched TLC's My Crazy Obsession you are really missing out on some wonderful guilty pleasure watching and you should especially tune in tonight to check out the guy who is super into living like a mermaid. Apparently it is not a good idea to get in the way of Busta Rhymes' morning cheeseburger lest you want to have homophobic epithets thrown at you. Earlier this week a Catholic priest appeared on Fox News and claimed that Catholics are being oppressed by gays. Pardon me while I don't shed a tear for him. 
It is somewhat disconcerting to be agreeing with Bill O'Reilly but, he continues to have to fend off members of the Christian Right who were upset by his "bible thumpers" comment in reference to gay marriage; this time it was "Dr." Laura Ingraham. Alan Keyes appeared on a right-wing talk show recently to let everyone know that gays are committing crimes against humanity. And Rep. Louie Gohmert continues to show that no one is gonna take that "craziest congressman" title away from him as he somehow manages to link his opposition to gun control to gay marriage leading to sex with animals. Well done! 
**
ENTERTAINMENT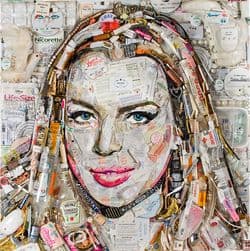 In a some-would-say apropos marriage of subject and medium a mosaic artist has made a portrait of Lindsay Lohan completely out of trash. Jimmy Kimmel asked his audience to play the ever-confusing game of gay couple or straight friends. Also Bill Maher was a guest on Kimmel's show last night and laid into the mean-spirited opponents of marriage equality. 
**
GAY NEWS
GLAAD has announced that it will honor former President Bill Clinton with it's first ever 'Advocate for Change' Award at its Los Angeles GLAAD Awards. In an amazing piece of quantifiable proof that support for marriage equality is on the upswing, check out this graph depicting Senate support for same-sex marriage. And Kobe Bryant says Magic Johnson's gay son is (and should be) a non-issue. Now if he can just get the Lakers into the Playoffs. 
**
VIDEOS OF THE DAY
Check out this mobile phone ad from Sweden that is all about supporting gay relationships. Also ASAP Science tells us all about the internet's favorite topic: cats!