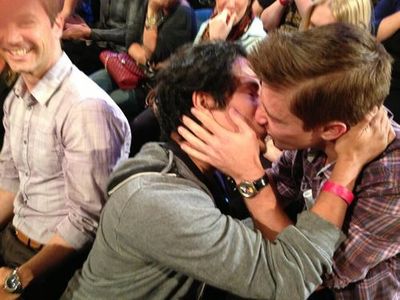 PHOTO OF THE DAY: Russell Brand uses a gay kiss to prove that his show is indeed live 
BY SAM GREISMAN
A look at today's top stories
ENTERTAINMENT
Gwyneth Paltrow was recently given the very prestigious title of "Most Beautiful Person" by People magazine. Or you know she is just promoting her cookbook. Whatever the reason Ellen DeGeneres gave Paltrow her spoils when she stopped by her show. A group of LGBT friendly stars happened to all be on hand earlier this week to celebrate their past work at AFI's Night at the Movies and were asked about marriage equality. Just ignore the awkward interviewer. Former Desperate Housewives actor Tuc Watkins has announced that he is gay and to get you pumped for all the summer blockbusters here is a very dramatic supercut. 
**
WINGNUTTERY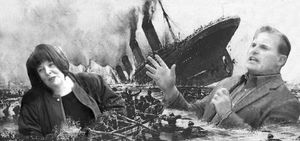 A group of anti-gay catholic students at the University of San Diego are really frightened of a drag show that keeps happening on campus and have turned to God for help. What with all the recent marriage equality successes both domestically and abroad, the crazies at the National Organization for Marriage may have to decide if it's worth going down with the ship. In an attempt to draw attention away from the hate group distinction they were recently given by the Southern Poverty Law Center, the Family Research Council has released a video of a shooting at its headquarters this past August. Russian leader Vladimir Putin hates gays so much that he has threatened to keep Russian children from being adopted by families from countries that have legalized gay marriage. Also Cuban gay rights activist (and daughter of Raul Castro) Mariela Castro has been denied a visa to accept an award at Philadelphia's Equality Forum. 
**
VIDEOS OF THE DAY
Jon Stewart is overwhelmed by the return of George W. Bush and all the wonderful fresh material it will provide him with. And Stephen Colbert sat down with gay Episcopal Bishop Gene Robinson and grilled him about the strange dichotomy between gayness and religion.