Aly Robledo, a 25-year-old transgender woman in Lewiston, Idaho, was banned from a Rosauers grocery store after using the women's bathroom, the AP reports.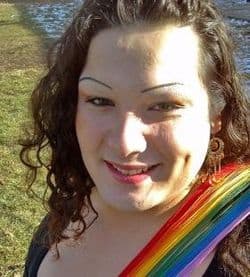 Lewiston's KLEW adds:
Robledo was given a no trespass order Monday night shortly after exiting the Rosauer's grocery store location in Lewiston.
"A male subject who was using the female restroom, and that made some women customers uncomfortable because of the appearance that a male was using their restroom," said Lewiston Police Captain Roger Lanier.
"I really doubt that would be more socially acceptable than someone using the men's restroom," said Robledo.
Lanier told KLEW News that employees confronted Robledo, who explained she identifies herself as a transgendered woman who has gone through one phase of reconstructive surgery.
"The store employees didn't want any further problems, and they chose to exercise their right to trespass this individual from the business," said Lanier. "Anyone who owns or controls their property can make that decision."
"I think calling the police is not really sufficient and I think it's a waste of our tax payers' dollars," said Robledo.
The grocery store chain is refusing to comment: "The manager on duty Wednesday afternoon at Rosauer's chose not to comment. KLEW news attempted to get an official comment from the corporate offices of Rosauers, however our calls have not been returned over the period of two days."