Many of you will recall this brutal attack outside an Atlanta grocery story (video at the link) in which a man was beaten while another laughed and repeated, "No faggots in Jack City."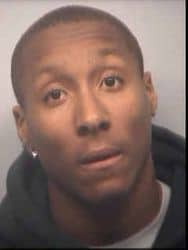 The two men responsible, Christopher Cain (pictured), 19, and Dorian Moragne, 20, both of Atlanta, pleaded guilty yesterday to a federal hate crime, the FBI reports:
"Hate-fueled violence will not be condoned," said Roy L. Austin Jr., Deputy Assistant Attorney General for the Civil Rights Division. "The Justice Department will use all the tools in our law enforcement arsenal to investigate and prosecute hate crimes."
"Using violence against another person because of his or her sexual orientation has no place in our civilized society. The Department of Justice is committed to aggressively enforcing the Matthew Shepard and James Byrd, Jr. Hate Crimes Prevention Act to prosecute acts motivated by hate," said U.S. Attorney Sally Quillian Yates.
Cain and Moragne admitted to violating the Matthew Shepard and James Byrd, Jr. Hate Crimes Prevention Act, which expanded federal jurisdiction to include certain assaults motivated by the victim's sexual orientation. The federal hate crimes law criminalizes certain acts of violence motivated by a victim's actual or perceived race, color, national origin, religion, sexual orientation, disability, gender, or gender identity. This case is the first in Georgia to charge a violation of the sexual orientation provision of this federal hate crimes law.