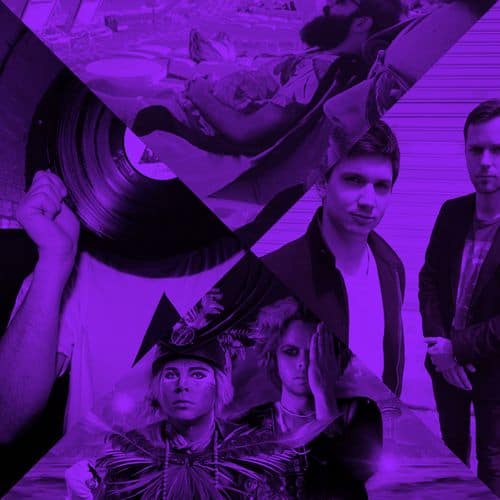 BY OCCUPY THE DISCO / JOSH APPELBAUM
The OXD Mirror is a weekly music column brought to you by the boys of OCCUPY THE DISCO (OXD), a New York City based movement created by three music lovers, Ru Bhatt, Josh Appelbaum, and Tadeu Magalhães, who want to share their love for disco, house and dance music with the world.
Below is a recent interview we did with Logo TV's New Now Next that describes who we are and what we do in a bit more detail. Enjoy!
And now onto the new music!
Logo: 'Cardiocleptomania'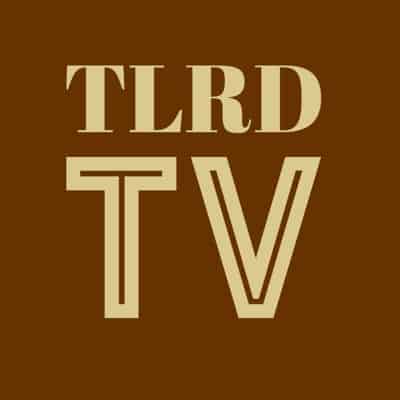 The title of French electronic production duo Logo's latest track, 'Cardiocleptomania,' seems to suggest the song is about someone who steals others' hearts incessantly.  With it's pulsing house beats, intense piano and strong musical progression, the song certainly took my breath away at first listen.  According to thier label, Kitsuné, the accompanying video is "designed to challenge and condemn homophobia in sports as much as it is the story of opposite impulses…willing to fight one of the most painful and taboo subjects of nowadays."  The progression of the video is timed neatly with the drops in the song to create a chilling cinematic effect.
Kisses: 'Air Conditioning'
There's something particularly irresistible about the sweet, summery electronic pop that has been coming out of L.A. lately from the likes of Goldroom, Classixx and of course this song's artist, Kisses.  Evoking serious visions of warmer weather, Kisses' aptly titled single 'Air Conditioning' has a sound that reminds me of The Cure's 'Lovesong'. Singer Jesse Kivel's smooth vocals paired along with the hearty bassline and ethereal instrumentals make this song a "must have" on my early summer poolside playlist.
Satin Jackets feat. Patrick Baker: 'Only You'
Satin Jackets have been on a roll this past year – and clearly we are big fans since we've featured them three different times on Towleroad before. Their latest, 'Only You', is a deep house track with vocals from up-and-comer Patrick Baker.  Smooth and slow is how Satin Jackets likes to record their music, and this track is certainly no exception.  They stick so steadfastly to this theory that on their Facebook page they go as far as to claim they will never put out a track above 120 beats per minute.  I'm continually impressed with their production skills with every subsequent track and look forward to more releases from this talented group.
MORE NEW MUSIC, AFTER THE JUMP… 
Empire of the Sun: 'Alive'
Empire Of The Sun's 2008 album Walking On A Dream was critically acclaimed for its unique, slightly cheesy, yet sophisticated sound.  It spawned some amazing singles like 'We Are The People' and of course the track the album is named after, 'Walking On A Dream'.  This visually and aurually inspired Australian duo is back with their sophomore album Ice On The Dune, with 'Alive' acting as the lead teaser single. Their sound is still rife with their distinct, robust choruses and falsettos.  I have a feeling their upcoming album will serve as the "it" soundtrack for the summer if 'Alive' is any indication of their direction.
Capital Cities: 'Safe and Sound (RAC Mix)'
Capital Cities' frontmen Ryan Merchant and Sebu Simonian formed in an unconventional way: both were jingle writers based in L.A. who met via a Craiglist ad.  Their brand of electronic pop rock, showcased on their debut self-titled 2011 EP, caught the attention of Chromeo and The Killers as well as countless music bloggers and magazines.  Currently finishing work on their first full studio album with a full band,  their latest single 'Safe and Sound' has gotten the remix treatment by RAC (Remix Artist Collective).
Ejeca: 'Alone'
Irish producer Ejeca is relatively new to the music scene but has been consistently putting out some of the best electronic tunes out there.  He's been experimenting with tracks that range in genre from garage to disco and techno, and his deep house effort 'Alone' is featured on the compilation Moda Black Volume 2.  The element of surprise, due to Ejeca's breadth of taste this producer has, keeps us coming back for more with every new song.
This Sunday: Paradisco at THE OUT NYC
As our Sunday daytime party Paradisco continues to grow and evolve, we're excited to announce that we'll be moving outdoors to the great lawn at THE OUT NYC this Sunday, April 21st.  This week we are featuring Sean B as our guest DJ, who has been spinning in NYC clubs since 1996, including legendary spots like The Limelight and Mr. Black, as well as other popular places like Chelsea Hotel's Clubber Down Disco, Santos Party House, Le Bain and countless loft parties throughout the city.  Come out and enjoy the beautiful sun and some great music with us on the second floor of THE OUT NYC from 3-8PM!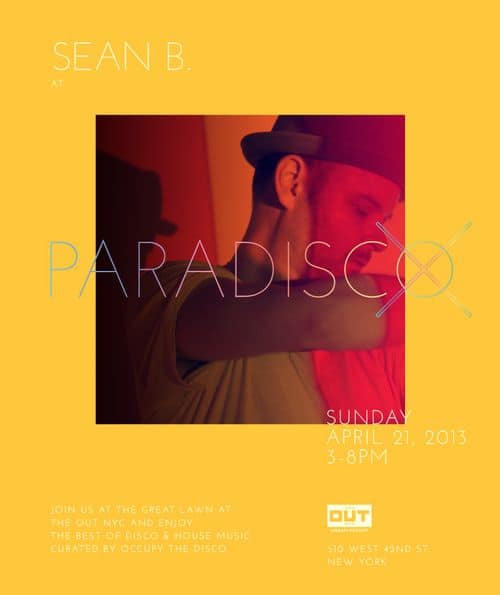 This week's post was written and curated by Josh Appelbaum.
For more information on OXD, check out our website and accompanying blog at www.occupythedisco.com, like us on Facebook, or follow us on Twitter: @OccupyTheDisco. Subscribe to our 'As Featured on Towleroad' Playlist to listen to tracks posted from past weeks.