The NY Post today published a lengthy profile on Libby Phelps Alvarez, who left the Westboro Baptist Church. The interview takes place at what Shirley Phelps-Roper calls the "sodomite rainbow house" which sits directly across the street from her old church.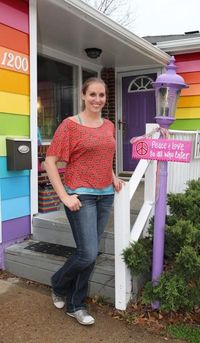 A few nuggets from the interview:
The whole family talks about homosexuality, every single day. And it's always about how homosexuals are dooming the world. They talk about fornication and divorce, remarriage and adultery, but the main thing is the homosexual lifestyle. It wasn't a personal hatred toward anybody. We were taught that we were doing a loving thing.
Either you are one or you're enabling one, and so everybody — except the Westboro people — is going to hell.
Church was on Sundays, for an hour. All the women had to wear head-coverings, because women are seen as submissive.
Gramps would always do the sermon. He was so good at it, so intense. He would talk about topical things that were going on, and it would always come back to homosexuality, nearly every single time.
Family life at home:
When 9/11 happened, I heard it on the radio in the car. I was actually driving over to the church. It was jaw-dropping. I thought, "Oh my God. I can't believe that happened." And then I get to the house and everyone was celebrating, like, "This is awesome! God is punishing this nation!" So I had to change, and be like, "Oh, OK, that's awesome." So I did. That's what I thought.
And her change in attitude:
I don't really think my personality has changed much, but I think my ideas on life have changed. When I had first left, if I would see a homosexual couple, I would scrunch up my nose. Then it got to where I still thought it was wrong, but I wouldn't say or do anything. And now it's to the point where it doesn't matter to me. I don't really care if somebody is gay. I know that I want to be good to people. I still believe in God. I just think that he's more forgiving.