Roger Ebert gets the merit badge of honor from the Westboro Baptist Church, according to the Hollywood Reporter: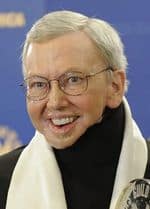 In its news release, the group calls Ebert a "f-g enabler" and complains that he used his Twitter "to mock the faithful servants of God at Westboro Baptist Church."
On March 25, Ebert did in fact tweet a link to a Salon post that features an excerpt from a book by Jeff Chu titled Does Jesus Really Love Me?: A Gay Christian's Pilgrimage in Search of God in America. Chu, a gay man, spent a day at Westboro as part of his research.
Ebert tweeted the link twice, once with the message "Just another day at Westboro Baptist" and again with a similar message: "One more day at the Westboro Baptist church."
Westboro also calls Ebert a "fool sold his soul for some fame & fortune."