Reuters takes a new look at Obama and the Employment Non-Discrimination Act, noting that the White House is showing no signs of any executive order from the President on the issue: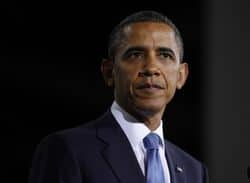 While Obama's advisers tout his record on the issue, they make clear that an executive order on federal contractors soon is unlikely, arguing that it would carry far less weight than broader congressional action. Legislation called the Employment Non-Discrimination Act (ENDA) lacks enough votes to become law.
"We want to continue to advocate for legislation. We think that that's the most robust way to accomplish what we want to accomplish," White House senior adviser Valerie Jarrett told Reuters in an interview.
They also see no effort to help the bill along in Congress:
…congressional aides say they see little evidence that the White House – already consumed by gun control, immigration reform and budget issues – is pushing to win support for ENDA.
Advocates won't be giving Obama a break:
"There is more that he can do," said Jon Davidson, legal
director at Lambda Legal, a non-profit organization supporting lesbian,
gay, bisexual and transgender (LGBT) people. "He has repeatedly said as
president that it's people's job to push him to do more and more, so we
intend to keep doing that."