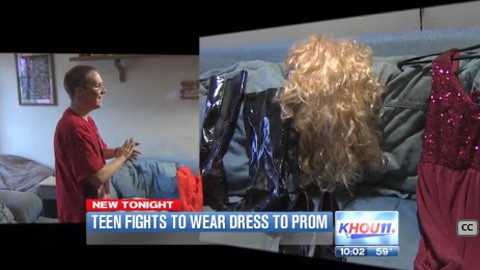 Tony Zamazal, a trans student at Spring High School in Houston, will be allowed to wear a dress to prom after the national and Texas ACLU got involved following reports in February that Zamazal's request was denied, the ACLU reports:
"Like every other student, Tony deserves to feel comfortable and be herself at prom," said Amanda Goad, staff attorney with the ACLU Lesbian Gay Bisexual and Transgender Project. "We're glad that Spring ISD has affirmed Tony's First Amendment rights."
The ACLU sent a letter to the principal on March 18, explaining that both federal law and the U.S. Constitution protect Zamazal's right to wear a dress to prom. The school district responded last week and affirmed that it will allow Zamazal to attend the prom in the formal clothing of her choice.
"Tony has the right under both federal statutes and the U.S. Constitution to express her gender identity," said Adriana Pinon, senior staff attorney with the ACLU of Texas. "Students' legal rights aren't something that public schools get to put up to a vote. We're happy to see the school do the right thing."
Watch a February KHOU report on Zamazal, AFTER THE JUMP…