Marriage equality ally Brendon Ayanbadejo's contract was terminated by the Baltimore Ravens yesterday, Newsday reports: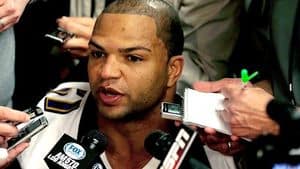 At tonight's Straight for Equality Gala in Manhattan where he and Vikings punter Chris Kluwe were being honored, Ayanbadejo said his non-football activities were a factor in the Ravens' decision.
"My bark is louder than my bite," he told Newsday. "I make a lot of noise and garner a lot of attention for various things off the football field. When that starts happening, why do you have that player around?"
Ayanbadejo said he understands it's just a piece of the ultimate decision. The three-time Pro Bowler as a special teamer said he knows the Ravens can find players to do what he does for less money and conceded that his productivity has gone down in recent years.
"But," he said, "I don't necessarily think that teams want this type of attention."
The Ravens say it had nothing to do with that:
"We are surprised that Brendan would indicate that," said Ravens spokesman Kevin Byrne. "We have always respected Brendan's opinions and his right to express them. He was released for football reasons, period."
UPDATE: Ayanbadejo denies he said he was cut because of his views.
Just a heads up I did an interview today and no way said I was cut because my views. I said my talk was louder than my production and at 36 when you are not producing it is a fair move. You can find cheaper guys to do what I do. Ravens are the best organization in the nfl period!
Joe Jervis says he spent much time on Twitter last night reassureing fans and denouncing homophobes.