You may recall a story we were posting about in March and April 2012.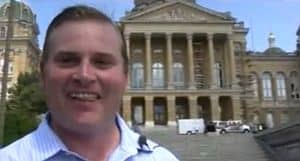 The National Organization for Marriage said "criminal activity" had occurred regarding the publication of its 2008 990-B tax form on March 30, 2012 by the Human Rights Campaign, which sought to reveal how Mitt Romney tried to shuffle his anti-gay financial activities in support of NOM and Proposition 8 through an obscure Alabama PAC.
The document, which contains the names of dozens of donors, is still available at the Huffington Post.
NOM is currently the subject of lawsuits in several states for trying to hide its donors.
In light of the recent reports about the IRS targeting specific conservative groups, NOM's Brian Brown is freaking out and calling for an investigation:
"There is little question that one or more employees at the IRS stole our confidential tax return and leaked it to our political enemies, in violation of federal law," said Brian Brown, NOM's president. "The only questions are who did it, and whether there was any knowledge or coordination between people in the White House, the Obama reelection campaign and the Human Rights Campaign. We and the American people deserve answers."