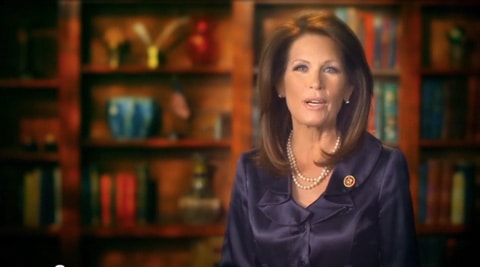 In a new video, Michele Bachmann says that an 8-year term in the House is enough and she won't be seeking reelection even though she's perfect in every way possible.
The decision, she also notes, has nothing to do with  an ongoing ethics investigation into misconduct during her 2012 presidential campaign:
"It was clearly understood that compliance with all rules and regulations was an absolute necessity for my presidential campaign. And I have no reason to believe that that was not the case."
Looking directly into the correct camera, Bachmann says she'll continue to fight for family values, and all the things she hates about Obama.
"I fully anticipate the mainstream liberal media to put a detrimental spin on my decision not to seek a fifth term. Since I was first elected to Congress many years ago they always seem to find a dishonest way to disparage me. But I take being the focus of their attention and disparagement as a true compliment of my public service effectiveness."
Watch, AFTER THE JUMP….