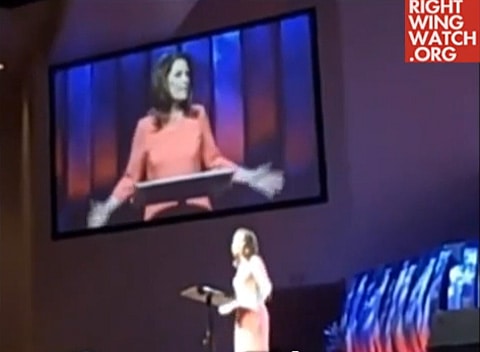 To go along with yesterday's clip of Rep. Michele Bachmann (R-MN) delivering a hysterical sermon about how 9/11 and Benghazi were God's wrath, here's a new one unearthed by Right Wing Watch in which she calls on Christians to engage in "spiritual warfare" to fight gay marriage.
She gave this speech in mid-April at the Liberty Counsel's 'Awakening' conference.
Says Bachmann in the clip:
You see if we retreat from our values and fail to make the case on issues like marriage – because it is one man, one woman – because God said it is. Not because it's poll tested – because God said it is. And life – not because it's poll tested, because God stands for life. He made us in his image and likeness. And if we tread too softly on issues, like taking on Islamic jihad, and if we fight too timidly, and if we strive too meekly, then I think we all understand we very easily could come face to face with defeat, and then our nation would in fact pay a great and a lasting price, one that none of us wants to face.
…
Because we need to recognize the desperate situation of our condition, not only in the natural but also in the supernatural. Because as the scripture was read from the pulpit at Margaret Thatcher's funeral, we fight not against this world, we fight against the powers and principalities and 'Prince of the Air,' that's where we need to focus as well, is on spiritual warfare…
Watch, AFTER THE JUMP…