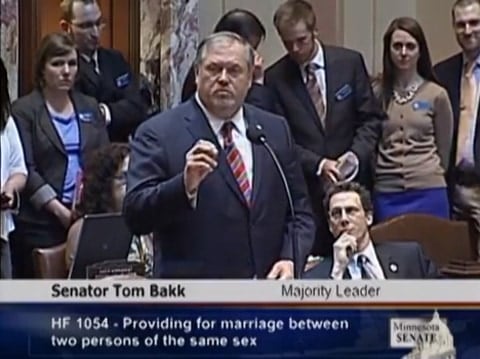 Minnesota Majority Leader Tom Bakk wrapped up today's Senate testimony on marriage equality with a story about a longtime family friend who is gay. Bakk grew up at a boy's Bible camp where his dad was the camp director. In 1962 his dad recruited a college student to be a camp counselor who later went on to the seminary to become a Lutheran pastor.
Bakk recounted a conversation about the pastor, named Ray, that he had with his mother over this past weekend. She told him, "Ray was the best friend our family has ever had."
Bakk then listed off a number of difficult and intimate moments at which Ray had offered his support for his family when they were ill, or grieving, and sacrifices he had made for them.
Said Bakk:
"Ray knows a lot about marriage. Married a lot of couples. Counseled a lot of couples through the highs that marriages have and some of the deep disappointments that sometimes happen in marriage relationships. He felt the excitement and could see the excitement in a couple's eyes as he married them. He felt the excitement in mine. Because in 1976 he married me. A few years later he came out as being gay and his employer in the church didn't treat him very well, and he had a very difficult ministerial career after that. Today he is retired and lives in Minneapolis. But something has always bothered me. That over the decades of his friendship with our family he participated in and shared in the joy of so many marriages but could never have one of his own."
Watch, AFTER THE JUMP…