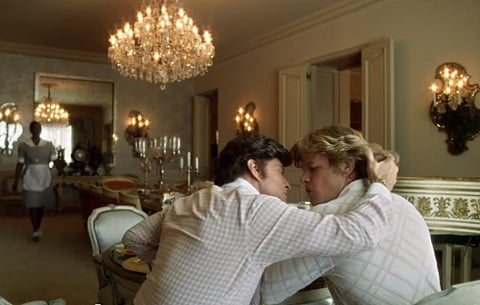 HBO's Liberace biopic Behind the Candelabra rated very well, EW reports:
The Steven Soderbergh film delivered 2.4 million viewers in its first airing, making it the most-watched HBO Film title in almost a decade (since 2004′s Something the Lord Made). Across two Sunday plays, Candelabra totaled 3.5 million viewers. The performance is especially impressive coming on Memorial Day weekend, when TV viewing levels typically decline several percent. Compare Candelabra's performance to HBO's previous recent record-settter Game Change, which had 2.1 million viewers for its Saturday night debut last year.
Yet Candelabra, as I noted earlier today, was "too gay" for the big screen, according to director Steven Soderbergh:
"Nobody would make it. We went to everybody in town," the "Traffic" and "Ocean's 11" director told TheWrap on Friday, at the Television Critics Association winter press tour. "We needed $5 million. Nobody would do it."
Wait a minute, we said. Let us get this straight: No studio would budget $5 million for a movie with Damon and Douglas?
"They said it was too gay. Everybody. This was after 'Brokeback Mountain,' by the way. Which is not as funny as this movie. I was stunned. It made no sense to any of us."