The New York Daily News reports that a Manhattan Criminal Court has indicted Elliot Morales, 33, who shot Mark Carson, 32 (pictured), in the West Village on Saturday night in a hate crime murder. Morales did not appear in court, but his attorney did. Writes the Daily News: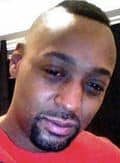 The lawyer, Kevin Michael Canfield, later said Morales is not guilty of the slaying and is "devastated by the charges."
"He didn't murder anybody," Canfield said, suggesting there were other factors at play.
"He was sexually abused as a child by a male authority figure which led to a lifetime of alcoholism and drug abuse," Canfield told the Daily News, adding, "It's a terrible tragedy."
Despite other factors which may have contributed, Morales was caught soon after he shot Carson, and the gravity of the situation is very real. Towleroad previously reported on Morales' charges which included murder as a hate crime and weapons charges, as well as the massive march and rally which followed on Monday.
The Daily News recalls the incident:
"Look at you faggots, you look like gay wrestlers," Morales allegedly told victim Mark Carson and his friend minutes before policed say he shot Mark Carson, 32, in the head.
Authorities said he callously laughed as he confessed to the random killing. His gleeful expression came as he allegedly told investigators, "I shot him in the face."
The indictment follows several weeks of increased anti-gay bias incidents in New York City, including the beating of two separate gay couples near Madison Square Garden, as well as an attack on New York nightlife promoter Dan Contarino. The Daily News reports that Morales will face "his Supreme Court arraignment on June 18th." For now, he is being held at Rikers Island with no bail posted.