NY Historical Society: AIDS in New York – the first five years.
Questions arise about police response to murder of gay man in October. "But it was not until about 5 p.m. the next day — 39 hours after the attack — that the police established a crime scene near the corner of 43rd Avenue and 42nd Street. Detectives canvassed for what witnesses they could still find. Mr. Rispoli died four days later."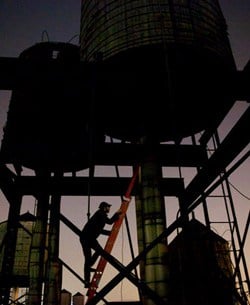 Night Heron: The speakeasy in NYC's Chelsea neighborhood, in a water tower.
VIDEO: Ke$ha and Bear Grylls have something in common.
3-D printing saves a boy's life: "In a medical first, doctors used plastic particles and a 3-D laser printer to create an airway splint to save the life of a baby boy who used to stop breathing nearly every day."
Indiewire: 10 LGBT films you should see on this summer's film fest circuit.
Trans pageant queen Jenna Talackova to star in Canadian reality show: " Tentatively titled Brave New Girl, its planned eight half-hour episodes are set to air in early September, with shooting starting next week."
One Direction's Harry Styles has been romping around Barcelona without a shirt.
Lady Gaga to perform at Beyoncé concert in Brooklyn?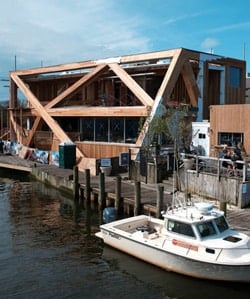 The NYT looks at the architecture of Fire Island Pines: "My line to people is that the Pines is to gay people what Israel is to Jews," Andrew Kirtzman, a longtime Pines resident and real estate developer, said recently. "It's the spiritual homeland. There's just a sense of history in the air, almost tangible but not quite. You just feel like you're part of some kind of grand creation meant solely for gays."
Matthew Rettenmund's full wrap-up of this week's sexy Broadway Beauty Pageant.
Daft Punk album sells 300,000+copies in first week. Duo plans remixes.
Behind the Candelabra's Debbie Reynolds talks about being Liberace's date: "I have never had a better time than being Liberace's date. We all knew he was homosexual. That was a friend: You know what they love and the people that they love, and what they are. I don't want him to be remembered just for being homosexual. He should be remembered as a great entertainer and loved by so many. And this picture does do that."
Brad Pitt surprised fans at a screening of World War Z: "The crowd went wild when he showed up and he had t-shirts to hand out to his fans. He made sure to give New Jersey a big shout out before the movie started!"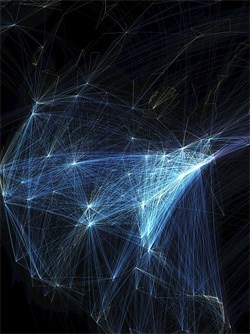 Cool new images reveal the world's flight paths.
Plans for NYC's ginormous ferris wheel in Staten island:
"a 630-foot tall structure that will be open almost 365 days a year,
will hold about 1,400 people per hour in its 36 capsules, each of which
will make 38-minute rotations at a rate of about 10 inches per second."
$2 million was spent lobbying lawmakers on marriage equality in Minnesota: "Minnesotans United for All Families leader Richard Carlbom provided the figure to The Associated Press ahead of a mid-June deadline to report lobbying during the just-completed legislative session. About $400,000 to $500,000 was spent on TV ads, he said. Minnesotans United likely will rank at or near the top of 2013 legislative lobbying, if historical spending is any guide."
Politico: The new gay rights battleground of Virginia.
Neil Patrick Harris to introduce USA Network broadcast of Milk: "The feature marks the fourth film in USA's Characters Unite quarterly film series dedicated to using the power of storytelling to increase awareness of social injustices, stimulate dialogue and encourage progress."