Eric Garcetti is thge new mayor-elect of Los Angeles, deffeating Wendy Greuel, the L.A. Times reports: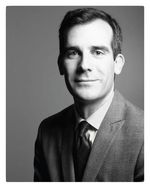 Garcetti will be the first elected Jewish mayor of the city. At 42, he will also be the youngest in more than a century. He is scheduled to take office July 1.
"Thank you Los Angeles," Garcetti wrote in a Tweet posted at 2:52 a.m. "The hard work begins but I am honored to lead this city for the next four years. Let's make this a great city again."
During early returns Tuesday, Greuel led the mayor's race by a slight margin. But as the night wore on, Garcetti's lead grew. Election tallies from the City Clerk's office posted at 1:38 a.m., with nearly 73% of precincts reporting, showed Greuel had fallen eight points behind Garcetti.
After seeing those numbers—Greuel 46%, Garcetti 54%—she called Garcetti at 1:42 a.m. to concede the race.
Read a profile here of Garcetti's activism in LGBT rights from Frontiers writer Karen Ocamb.