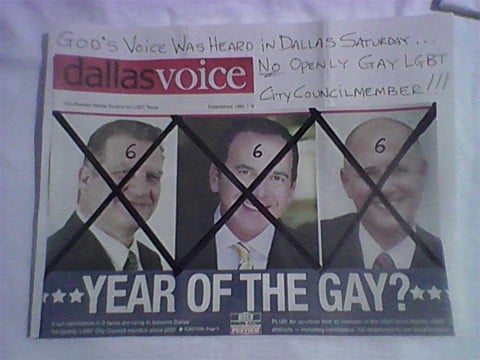 Remember the hateful voicemail I posted yesterday from failed Dallas City Council candidate Richard P. Sheridan? Last night, Sheridan was at the Dallas City Council meeting passing out the flier seen above.
Writes Dallas Morning News reporter Rudolph Bush: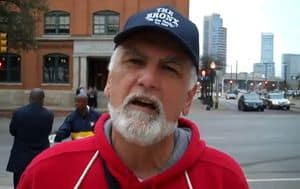 During the meeting, Sheridan began passing out fliers. He dropped one in my office. He gave a few to people in the audience. And then he put one in the hand of former Dallas City Council member Craig Holcomb.
…It was a distortion of a recent Dallas Voice front page showing the faces of three openly gay council candidates, Vernon Franko, Leland Burk and Herschel Weisfeld. Sheridan had X'd through each of their faces and scrawled 6s on their foreheads.
"God's voice was heard in Dallas Saturday. No openly gay LGBT City Councilmember!!" he wrote, in reference to the fact that all three lost their races. (Franko and Weisfeld ran against Adam Medrano in District 2)
Sheridan failed to write that his own bid for council came up a little short too. In fact, he managed to get 28 votes in District 13. That's 28 votes out of 10,350 votes cast in the district. Burk lost to Jennifer Staubach Gates, but he got 3,584 votes for his effort. Or, to put it another way, Burk got 128 times the votes that Sheridan did.
Sheridan's actions reportedly drew outrage at the meeting, and the Council may now be reconsidering its open microphone rules and reviewing its guidelines regarding abusive speakers.
In the profanity-laced voicemail I posted yesterday, Sheridan had scolded a reporter at D magazine for failing to report that his opponent was gay.