A new initiative of the ACLU, ACLU Action, has launched a campaign urging Modern Family writers to marry Cam and Mitch.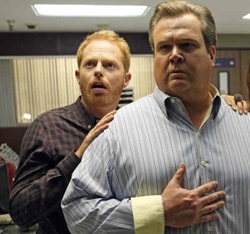 They write:
"The freedom to marry is being advanced in American living rooms as much as in court rooms," said ACLU Executive Director Anthony D. Romero. "As we wait for the Supreme Court to rule, we want to keep this issue on the minds and screens of Americans everywhere."
ACLU Action aims to activate the ACLU's 750,000 online supporters to have a political impact through social media and new grassroots organizing tools, and to reach out to new audiences, with its message of equal rights for all. By calling on Americans to "RSVP" that they will watch Cam and Mitch get married, the campaign will let the "Modern Family" producers know that a wedding episode would be a ratings hit. The campaign will put marriage equality before new and younger audiences through social media channels.
ACLU Action plans to deliver the "guest list" created by this RSVP to the producers of "Modern Family," Steven Levitan and Christopher Lloyd. The delivery will be timed to capitalize on the energy arising out of the landmark Supreme Court cases to be decided this summer, as the writers and producers are scripting the next season of "Modern Family."
Should you wish to join that list, you can do so here.
Jesse Tyler Ferguson reacted to the campaign via Instagram: "Love this! Thank you ACLU! Maybe once Prop 8 is overturned"