Michelle Obama is headlining a May 29 fundraiser for the Democriatic National Committee in New York and NBA center Jason Collins will be there as well, Politico reports: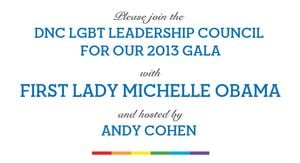 Collins will appear with Obama at the May 29 Democratic National Committee LGBT gala, the source said. The event is Obama's first fundraising stop since President Barack Obama won re-election.
They add:
The May 29 New York event is billed as the DNC's LGBT Leadership Council 2013 gala and is to be hosted by Andy Cohen, the Bravo TV network executive and host.
The DNC is asking donors for at least $1,250 and up to $32,400 per person for the Park Avenue reception, according to an invitation obtained by POLITICO.
Obama will also appear in Boston that day to stump for Markey, who this week defeated Rep. Stephen Lynch in a Democratic primary. Markey faces Republican Gabriel Gomez, a former Navy Seal and political newcomer, in a June 25 special election to fill John Kerry's Senate seat.