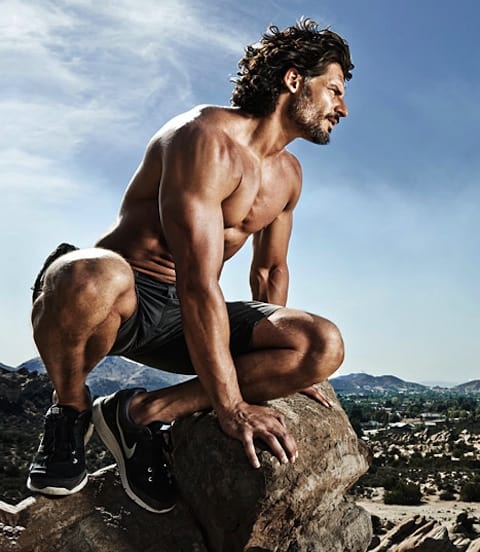 With the anticipated return of True Blood right around the corner on June 16th, actor Joe Manganiello is thankfully taking full advantage of the renewed spotlight. The 6-foot-5 actor beefs up the cover of the July issue of Men's Health UK, where his detailed fitness routine is discussed along with an accompanying photo spread of Manganiello demonstrating his peak physical prowess.
"I'm not 18 anymore. But you won't hear me saying that, because me at 36 would destroy me as a teenager," the actor boasts. "In my mid-thirties I'm making bigger gains than I've ever made in my life."
More (shirtless) shots of the hunk, AFTER THE JUMP…
Manganiello, who is no stranger to nude or shirtless scenes on screen, says in a previous Men's Health interview that his roles have helped push him further as an athelete-actor. 
"When you're shirtless one or two days a week – which is how it works with True Blood - you can ramp up and ramp down the intensity of training. When you're shirtless every day [on the Magic Mike set] there's no let up. So we spend a fortnight doing thousands of push-ups, thousands of curls, thousands of lat raises. We basically spent every day working out for two weeks in a row. After that I needed a pretty hardcore vacation. But it was worth it. It was the most fun I've ever had in my life. One hundred percent."
Manganiello also dishes about starring in the upcoming thriller Ten with his childhood fitness hero Arnold Schwarzenegger.
"Arnie was a hero to me. He's the reason why every guy of our generation started going to the gym," Manganiello explains. "To film with him for four months was awesome. And he stills trains every morning."
Manganiello's full interview appears in the July issue of Men's Health UK, on sale Monday, June 3.