Earlier this month I debuted some exclusive clips from The Lavender Scare, the documentary in progress chronicling the U.S. government's gay 'witch hunts' beginning in the 50's and 60's and efforts by early gay activists like the late Frank Kameny to put a stop to them.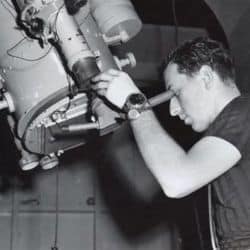 The filmmakers are funding the home stretch of their film via Kickstarter and are excited to debut another very special clip on Towleroad on what would have been Kameny's 88th birthday (May 21).
It's the last major interview Kameny did before his death in 2011 and also includes an audio clip of Frank's 96-year-old mother describing how horrified she was that he wanted to be an astronomer.
Filmmaker Josh Howard tells us:
Frank Kameny  didn't plan on becoming a gay activist.  He was working as an astronomer for the U.S. Army Map Service, a job he loved.  Unfortunately, the government found out he was gay, and since President Eisenhower had ordered the dismissal of all gay and lesbian workers, Frank was fired.  But unlike the thousands of LGBT people that had been fired before him, Frank fought back.  His efforts to regain his job led him to spend the next five decades on the front lines of the fight for LGBT rights, recognized today as one of the founders of the movement.  Frank's story is the focus of The Lavender Scare, an upcoming documentary about the government's anti-gay witch hunts.  Here are some clips from Frank's interview for The Lavender Scare, which was the last extensive filmed interview of his life.  They are being seen here for the first time.
Watch, AFTER THE JUMP…
You can check out the filmmakers' Kickstarter HERE.
And the film's official site HERE.