Bruce Yelk at NightlifeGay.com reports: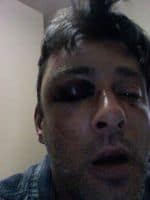 Shock, outrage, anger sums up how I am feeling today as one of my very good friends was gay bashed last night in New York City.  Dan Contarino, former promoter of Shampoo Nightclub's "Shaft" Fridays, was jumped last night at Avenue D & 4th Street.   Allegedly, witnesses are reporting the assailant was yelling "f*ggot" as he was kicking and beating Dan.  Neighbors rushed to Dan's aid and chased after the attacker but unfortunately he got away. The police are investigating the assault now and have not determine it a hate crime.
Contarino wrote on Facebook this morning:
THANKS FOR CALLS…. GAY BASHED LAST NITE…. back from small surgery…. CHEST XRAYS THIS AM…. suspect still at large… police n media waiting to interview me… U JUST WANNA CRY N MOVE ON….
NOTE: Comments on this post have been closed and hidden due to severe trolling. I apologizes to our readers for the cesspool the comments section has become and promise we will work to find a solution. The site right now is built on a very old template, which makes moderating individual comments very difficult give the size of the site and the number of them coming in. We count on readers to flag items for us.
Commenters who race-bait and/or use multiple identities in order to start or invigorate comment wars (we know who you are) run the risk of being BANNED. Please refrain also from goading trolls into commenting. Those comments may also get deleted.
Sorry for having to even say this. Please try to carry on in a civilized way with constructive commentary and respect for others. Thank you.