Senator Kirsten Gillibrand today announced plans to introduce legislation prohibiting discrimination against gay couples looking to adopt, the Washington Blade reports: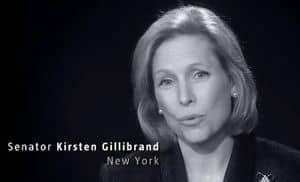 The legislation, known as the Every Child Deserves a Family Act, would restrict federal funds for public child welfare agencies if they have laws or practices allowing for discrimination in adoption on the basis of marital status, sexual orientation or gender identity. The bill would also prohibit discrimination against LGBT children seeking families.
Gillibrand emphasized the importance of the legislation on Tuesday during a news conference on Capitol Hill as a means to ensure LGBT families seeking to adopt can do so without fear of anti-gay bias.
Rep. John Lewis (D-Ga.) and Rep. Ileana Ros-Lehtinen (R-Fla.) are sheperding the bill in the House.
Gillibrand tells the Blade she's now working on co-sponsors and will attempt to pass the bill this year.
As noted by The Huffington Post, one potential supporter for the legislation in the House could be Rep. Paul Ryan (R-Wis.), who said during a town hall that he supports adoption rights for gay couples, although he continues to oppose same-sex marriage.
"I do believe that if there are children who are orphans who do have a loving person or couple — I think if a person wants to love and raise a child they ought to be able to do that. Period. I would vote that way," Ryan said.
Ryan's office didn't immediately respond to the Blade's request to comment on whether he'd support the Every Child Deserves a Family Act.