As expected, Senate Judiciary Committee Chairman Patrick Leahy has formally submitted two amendments to the "Gang of Eight" immigration bill that would provide equal treatment for same-sex couples.
Read the amendments, AFTER THE JUMP…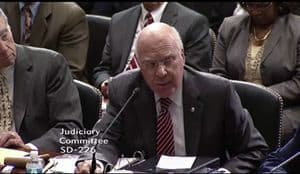 Buzzfeed's Chris Geidner reports:
Among Leahy's amendments is one that is modeled after the Uniting American Families Act, a bill that would create a new category of "permanent partners" to enable a U.S. citizen in a same-sex couple to sponsor a foreign partner. A second amendment, according to a news release from Leahy's office, "provides equal protection to lawfully married bi-national same sex couples that other spouses receive under existing immigration law."
Geidner adds:
Lavi Soloway, an immigration rights lawyer who represents same-sex couples and co-founded The DOMA Project, told BuzzFeed the second amendment was "nothing short of a strategic master stroke."
Explaining, he said, "It would amend the Immigration and Nationality Act so that all marriages of gay and lesbian binational couples would be recognized for immigration purposes only, thus creating the first ever 'carve out' or exception to DOMA under federal law."
Said Leahy in a statement:
"For immigration reform to be truly comprehensive, it must include protections for all families. We must end the discrimination that gay and lesbian families face in our immigration law."
Read the amendments, AFTER THE JUMP…
The Human Rights Campaign released a statement to Towleroad this afternoon regarding the expected amendments:
This afternoon is the deadline for members of the Senate Judiciary Committee to file amendments to the Immigration Reform bill the committee will start marking up on Thursday. LGBT advocates have every expectation that an amendment will be filed adding bi-national same-sex couples to the bill. The four Republican members of the "Gang of Eight" have threatened to derail the immigration bill if gay couples are included in it suggesting that protecting this group, currently left out of our broken immigration system, is somehow different than the other important fixes contemplated. It's not.  
If they end up doing that, they should just own it and call it what it is: homophobia. Labeling the inclusion of bi-national couples in the immigration bill as toxic is nothing more than a tired, insulting ruse designed to distract attention from their own failure to represent all Americans. 
Senators can look to the recent overwhelmingly bipartisan passage of the Violence Against Women Act (VAWA) Reauthorization as their guide. There, Congress took an existing federal law and improved upon it to ensure that more vulnerable populations, including LGBT people, are protected. It can be done.
There is a jarring disconnect between the American public and these senators when it comes to issues of LGBT equality. It's pretty dated to consider LGBT equality as a controversial, hot-button issue like these senators are portraying it to be. In fact, a strong and diverse majority of Americans support equality. These senators are towing a tired line that no longer represents mainstream opinion, and they're throwing same-sex couples under the bus in the process.
The UAFA amendment:
The marriage amendment: