Pittsburgh Steelers rookie quarterback Landry Jones spoke with Outsports reporter Cyd Zeigler at the NFL Players Association (NFLPA) Rookie Premiere.   He discussed his Christian beliefs and the novel perspective that they shouldn't interfere with having a gay player on his team.  Asked about how Christian and gay players would mesh on the field, Jones had this to say: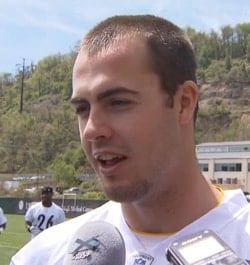 "There's not a conflict," Jones said. "People are people and God tells us to love everybody. And so that's what I do."  
"Now, do I condone what they're doing? No, I don't think it's right," he continued.
"But, am I going to go out there and not talk to them? Am I going to go out there and be hateful and mean to them? I think that's ignorant. I think we respect and love everybody. But, there's also a moral standard there for me, and I'm going to take a stand on that. I don't think it's right, but it's their life and I'm not going to go up because someone is gay and be mean or hateful and say terrible things to them. I'm going to treat them like a human being."
Jones recalls other NFL players, the notorious Tim Tebow in particular, with his strong Christian background.  During their interview, Zeigler noticed a Biblical passage from Philippians printed on Jones' hand.  But Jones also respects the gay community, and gay players:
"It doesn't matter if you're gay or if you're straight," Jones said. "If you can play the game of football, you're going to be on a team and you're going to have a job. Just like if you're in a regular business setting. If you can do your job well, you can do your job. You can get paid and earn a living and provide for your family, whatever your family looks like." 
Jones' words echo the recent outspoken support of former NFL player Kurt Warner and recently dismissed-and-resigned punter Chris Kluwe.  And though Landry is hesitant to fully support the gay community, Zeigler suggests that his may be the halfway-there perspective we need to embrace in the sports world:
If we're going to open sports for everyone, Jones' willingness to put his personal feelings aside and treat people equally is the kind of perspective we must be willing to hear. Just as we want men like Jones to accept us, we must accept them.