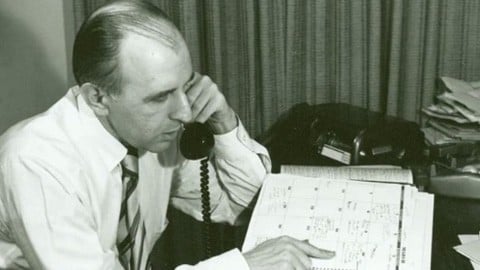 Back in 2011 I posted about a documentary in progress called The Lavender Scare, chronicling the U.S. government's gay 'witch hunts' beginning in the 50's and 60's and efforts by early gay activists like the late Frank Kameny to put a stop to them.
The filmmakers are funding the home stretch of their film via Kickstarter and are excited to debut a couple of new clips from the project on Towleroad. Anyone with an interest in LGBT history should find these fascinating.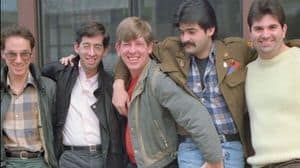 The first clip, "You can't be gay and work here" is the story of Jamie Shoemaker, a linguist for the National Security Agency.
The filmmakers write:
When it was discovered he was gay, his supervisor demanded his resignation, took his ID card, and had him escorted out of the building. This happened in 1980 – long after the time most people associate with the anti-LGBT witch hunt. Jamie immediately called Frank Kameny, who had been successful by that time in protecting the jobs of gay people in non-sensitive agencies. Jamie was different, in that his position required top-secret security clearance. The conclusion of the story (which is not revealed in the clip) is that after a six-month fight spearheaded by Frank Kameny, Jamie became the first gay person in history to be allowed to keep his top-secret clearance. It was a front-page story in the Washington Post.
The second clip, "We do not hire homosexuals" is the government's response to the early days of the gay rights movement.
In 1965, Frank Kameny and Jack Nichols organized the first gay rights demonstrations the nation had ever seen. With a handful of others, they picketed the White House and other government buildings to protest the on-going ban on hiring gay and lesbian workers. On August 28th, they picketed the State Department. At a news conference the day before, Secretary of State Dean Rusk was asked about the protest. The derisive laughter from the press corps and Rusk's dismissive response to the protest is chilling and hard to believe when seen from today's perspective.
You can check out the filmmakers' Kickstarter HERE.
And the film's official site HERE.
I've reposted the trailer, AFTER THE JUMP…