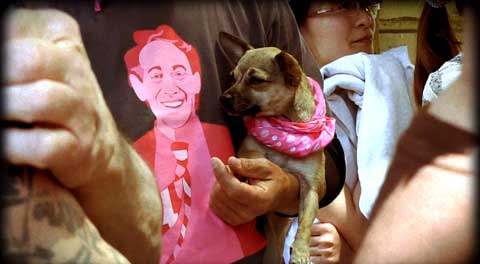 Videographer and activist Sean Chapin, along with Andrea Shorter, Randall Mann, Sister Roma, Courtney Walsh, and Aaron Wimmer, produced a powerful reading of Harvey Milk's famous "Hope" speech at the top of the Castro in honor of today, Harvey Milk Day in California.
Walsh and Wimmer are two actors from Dear Harvey, the recent New Conservatory Theater play about Milk's life, Mann is a local poet and winner of the 2003 Kenyon Review Prize in Poetry,Sister Roman is a 20 year veteran of the Sisters of Perpetual Indulgence, and Shorter is a lesbian political consultant who serves on the city's Commission on the Status of Women.
Watch it, AFTER THE JUMP…
Chapin writes:
"What came to be called 'The Hope Speech' was initially conceived as a stump address, wherein Milk attempted to embolden a strong GLBTQ nationalism within the Castro, while also appealing for an alliance with other disenfranchised groups and straight folks," wrote Jason Edward Black and Charles E. Morris III in their anthology An Archive of Hope: Harvey Milk's Speeches and Writings (University of California Press, 2013). Milk would revise the speech and recite it several more times at various appearances, according to the introduction written by Black and Morris to the version they included in their book. It was a defiant speech about gay self-acceptance that included Milk's call for LGBT people to come out of the closet and inspire others to do so. For as Milk said, particularly of LGBT youth, "And you have to give them hope. Hope for a better world. Hope for a better tomorrow. Hope for a place to go if the pressures at home are too great. Hope that all will be alright."
Milk would have been 83-years-old today.