Minnesota's House is set to debate and vote TODAY on marriage equality.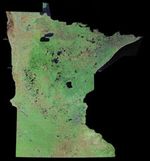 The House is scheduled to be in session at 12 pm (1 pm ET) and will be considering HF1054 (Clark) Marriage between two persons provided for, and exemptions based in religious association provided for.
You can watch LIVE here. And the Star Tribune will be running a livestream as well.
Read our latest updates on the bill HERE and HERE.
For those of you in Minnesota, Minnesotans United has some info on their Facebook page letting you know how you can be part of the historic vote.
Make sure not to miss a Towleroad headline by following @TLRD on Twitter. And thank you for sharing and retweeting our content.