With the Boy Scouts final vote on the gay ban approaching on May 23, more chapters are taking stands over the issue.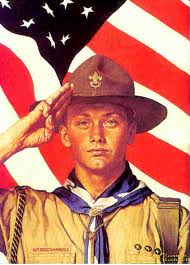 The western Los Angeles County branch is breaking with the national organization and calling for the BSA to accept gay scout leaders, Reuters reports:
The council, which represents more than 14,000 scouts and ranks as the nation's 14th-largest scouting chapter, called for the Texas-based youth organization to go further by welcoming gays into the ranks of its adult volunteers as well.
In issuing its declaration on Tuesday urging a "true and authentic inclusion policy," the Los Angeles group joined at least two branches in New York state that have pushed for allowing gays to work as troop leaders or staff members…
…Alan Snyder, chairman of the board for the Western Los Angeles County Council of the Boy Scouts, said the members of his chapter's board have for more than a year discussed what should be its stance on the role of gays.
"We're hoping that by being visible on the issue, we can encourage others to have the temerity to join us," Snyder said.
And Great Salt Lake Council officials say they will allow their 15 members to "vote their conscience" on the issue rather than vote as a bloc:
"This morning, the Great Salt Lake Council unanimously passed a motion to allow each of our 15 voters to vote their conscience as to what is in the best interest of our youth members, the council and the BSA," the Council said in a statement. "We will work closely with our Scouting family and remain totally committed to Scouting's mission and delivering our quality programs to more than 100,000 members and leaders."
The Church of Jesus Christ of Latter-Day Saints is the largest sponsor in the nation, with the Boy Scouts making up a large part of its youth program.
LDS Church officials have said in a statement they are "satisfied" with the latest BSA proposal to allow gay youths but exclude gay adults.