The AP reports that momentum is happening in Minnesota toward marriage equality and bills pending there could see some action soon: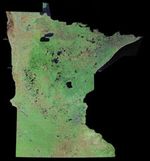 Lawmakers could vote as early as next week on the bill to make same-sex marriage legal in Minnesota on Aug. 1, though votes have not yet been scheduled in either the House or Senate. While supporters appear to have the needed votes nailed down in the Senate, the House is less certain. A group of about a dozen rural House Democrats have been reluctant to commit, hailing from districts where voters strongly backed last fall's failed constitutional gay marriage ban.
The report comes as supporters pick up a key House vote from a Democratic representative in a conservative district. No House Republicans have said they would vote yes on the measure though at least one Senate Republican, Branden Petersen, has said he will.