Nigeria's House of Representatives has approved a bill passed by the country's Senate in November 2011 mandating a 14-year jail sentence for gays who marry or engage in relationships and 10 years for those who help them.
The AP reports:
Nigeria's House of Representatives passed the bill Thursday in a voice vote. The Senate previously passed the bill in November 2011. It was not immediately clear if there were differences between the House and Senate versions. If there are none, the bill goes immediately to President Goodluck Jonathan to potentially sign into law.
It also criminalizes registering gay clubs or organizations, as well as "public show of same-sex amorous relationships."
Amnesty condemned the bill in 2011 before the House passed it:
By broadly defining "same-sex marriage" as including all same-sex relationships, and targeting people who "witness", "aid" or "abet" such relationships, the bill threatens the human rights of a large number of people…
…"Nigeria's House of Representatives should show leadership and uphold the rights of all in Nigeria by rejecting this reprehensible bill," said Erwin van der Borght, director of the Africa Programme.
"If passed, this measure would target people on the basis of their identity, not merely their behaviour, and put a wide range of people at risk of criminal sanctions for exercising basic rights and opposing discrimination based purely on a person's actual or presumed sexual orientation or gender identity."
It would place a wide range of people at risk of criminal sanctions, including human rights defenders and anyone else – including friends, families and colleagues – who stands up for the rights of lesbian, gay, bisexual or transgender people in Nigeria.
Individuals could face imprisonment based on nothing more than their actual or assumed sexual orientation or gender identity, or stemming from allegations about their relationship status or consensual sexual conduct.
In December 2011, activists delivered more than 58,000 signatures to the Nigerian mission to the United Nations asking Nigeria's president to veto the bill.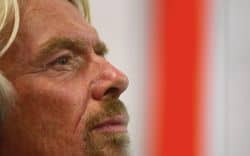 Sir Richard Branson spoke out about it:
Too sad to comprehend that Nigeria are passing a law in this day and age to put gay people in prison just for being gay.
The Prohibition of Same-Sex Marriage Bill passed through Nigeria's Senate unopposed last week. It means gay couples entering into either marriage or cohabitation will be jailed for up to 14 years. Even people "witnessing" or "abetting" gay relationships could be punished under this sad, repressive and cruel law.
Like everyone else in society, gay people have an enormous amount to offer and Nigeria should embrace them not prosecute them.
All of us with influence in Nigeria must do what we can to stop this cruel law. I would urge educated Nigerians all over the world to do what they can to help fight this discrimination.