Senate Democrats are increasingly nervous about the prospects of gay-inclusive amendments filed last week by Senator Patrick Leahy (D-VT) killing the comprehensive immigration reform bill, Politico reports:
After strategically keeping the White House at a distance, some key Democrats are privately advocating for the president himself to ask Judiciary Committee Chairman Patrick Leahy (D-Vt.), chief proponent of the measure, to hold off on offering the amendment until the floor debate, where it's unlikely to pass.
"He is working behind the scenes," Senate Majority Whip Dick Durbin (D-Ill.), a Gang of Eight member, told POLITICO when asked whether Democrats wanted Obama to get involved, although declined to get into details. "Obviously it is Sen. Leahy's call."
Leahy said he spoke with Obama on Wednesday, but the issue didn't come up. Even if it did, Leahy said, a presidential intervention wouldn't necessarily sway him.
"I am the most senior member of the Senate, I'm an experienced chairman. He's happy I'm handling immigration," Leahy said. "He hasn't suggested whether I should or shouldn't do it because he knows I'll make up my own mind."
It's also still unclear whether Senator Chuck Schumer (D-NY) would vote for the amendments, they add:
After the Gang of Eight didn't include the protections in the underlying bill, Schumer assured advocates that the issue would get a vote in the Democratic-controlled Judiciary Committee, the most favorable venue for passing the amendment because the threshold is a simple majority, rather than the filibuster-proof majority on the Senate floor.
But now [LGBT advocates] are worried that might not even happen.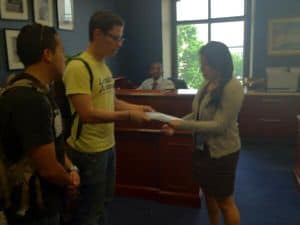 Earlier, today, Schumer received, via hand delivery from the advocacy group GetEQUAL in coordination with the pro-immigrant organizations Presente.org, DRM Action and Uniting We Dream, 6,500 petitions urging him to include gay binational couples as part of the legislation.
Reports Chris Johnson at the Washington Blade:
Felipe Sousa-Rodriguez, co-director of GetEQUAL, personally handed the names to Schumer's staff on Thursday as part of a group of about a half-dozen activists.
"It's interesting because he's making a political mistake," Sousa-Rodriguez told the Blade. "The whole reason why this is even happening is because of Latinos, and Latinos hold the key to the White House. But 64 percent of voters support the inclusion of same-sex couples in immigration reform and 59 percent of Latino voters support same-sex marriage. Latinos have turned a page, the country has turned a page, but D.C. keeps being stuck in the '90s."
A Brazilian native who's married to a U.S. citizen, Sousa-Rodriguez is an undocumented immigrant who came to the United States at a young age and would be able to gain citizenship through a marriage-based green card application if the immigration reform included the provision for bi-national couples.
More at the Blade…