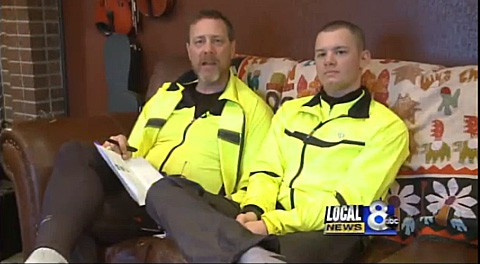 Army Spc. Joe McGrath, who came home April 15 from a year-long deployment in Kuwait, and his father Dave, a former Army Airborne Ranger, are taking on the Boy Scouts, Idaho's Local8 News reports:
These two warriors are home now, in Idaho Falls together. Now, father and son are about to fight one of those wars that don't look like war. "I have six sons, two of whom are gay," said Dave McGrath. "I have an identical twin brother who is an Eagle Scout, and he's gay."
Thinking about his family, a typically talkative Dave McGrath edges on with a quieter tone. "I love the Boy Scouts," he said. "I wish them all the best, and yet they discriminate against people I love." 
Dave McGrath is a lifetime scout — but right now the honor weighs heavy on his shoulders He knows not everybody can be one. "Some of us have gay people that we love," he said.
Father and son will bike 1,800 miles to Boy Scout headquarters so McGrath can pin his "95 objections to their stupid policy" on the door.
Watch a report on their amazing mission, AFTER THE JUMP…