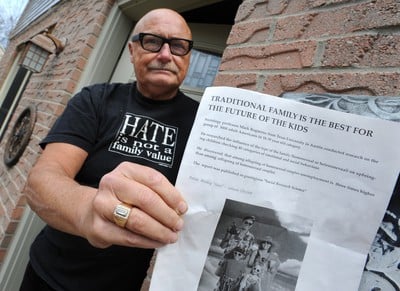 A RE/MAX Real Estate agent in the Toronto-area city of Mississauga is under fire for distributing sales brochures which included an article promoting "traditional families" as the best for the future of children, the Mississauga News reports:
The piece in question is a study conducted by a sociology professor from Texas University that says unemployment is three times higher among offspring of homosexual couples than those of heterosexual couples. The brochure cites the report as having been originally published in Social Research Science.
Lorne Park resident Jon McDonald, a retired elementary school teacher, was outraged by the material and sees no reason for such information to be printed in a real estate brochure.
"It just makes no sense whatsoever," McDonald told The News. "On the inside is information on how to maintain your air conditioner, how to save money, what you should know about air conditioners, all things you need to know if you're looking to purchase a home. The back (of the brochure) just seems so incongruous and offensive."
The Toronto Star adds:
Const. George Tudos said the Criminal Investigation Bureau looked into the incident and spoke to Ciastek about the impact of the literature. No charges will be laid, he said.
Christine Martysiewicz, director of internal and public relations for RE/MAX Ontario-Atlantic Canada, said "the views and opinions expressed in this piece do not reflect those of RE/MAX Ontario-Atlantic Canada or our agents."
She said Ciastek will issue a public apology and make a donation to a local charity of the company's choosing.