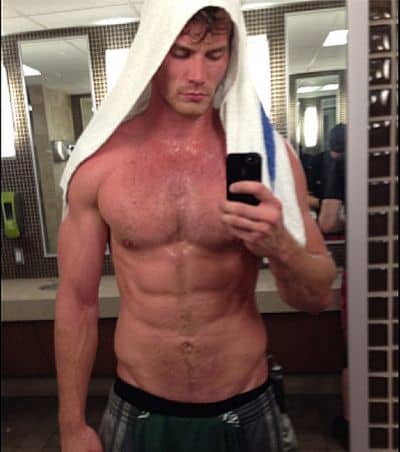 PHOTO OF THE DAY: Baby Daddy's Derek Theler has a treat for everyone.  
BY SAM GREISMAN
A look back at today's top stories
GAY ISSUES
President Obama pushes the Illinois House of Representatives to pass a marriage equality bill in the final days to do so. Tune in tomorrow. Also the California Senate has approved a bill that would strip the Boy Scouts of their tax exempt status due to their discriminatory anti-gay policies. 
**
ENTERTAINMENT
Fresh off his critically acclaimed portrayal of Liberace, Michael Douglas has opened up about the closeted members of Hollywood. Speaking of biopics about gay singers, Tom Hardy might be a possibility to play Elton John. Check out the first trailer for the star-studded "Machete Kills", and Grumpy Cat will be coming to a theater near you!
**
WINGNUTTERY
It turns out that the two bakeries in Oregon who refused to bake cakes for gay weddings don't have a problem with all 'sinners', just those of the gay variety. With yesterday's news that Michele Bachmann will not seek re-election, Rachel Maddow takes a look at some of her best (or worst) moments. Terrible news in Nigeria which has passed a law that will imprison gays for up to 14 years. Also a gay gun control advocate and New York City Mayor Michael Bloomberg were both sent letters that contained ricin. 
**
VIDEOS OF THE DAY
If you are even a moderate Instagram user, you probably have seen some of these dudes and prancing is really the best way to stay in shape.