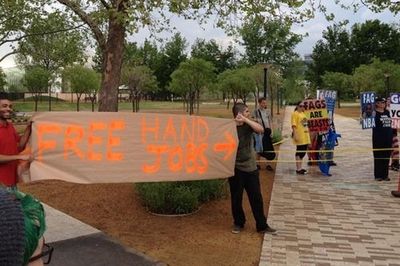 PHOTO OF THE DAY: The Westboro Baptist Church gives the best hand jobs!.  
BY SAM GREISMAN
A look back at today's top stories
GAY ISSUES
A final House vote has approved a marriage equality bill in the state of Rhode Island and Govenor Lincoln Chafee signed the bill into law this evening. Marriages can begin taking place in August. Pro-equality hip-hop stars Macklemore & Ryan Lewis stopped by The Colbert Report last night to discuss homophobia and to sing their pro-gay marriage anthem. Also check out Shaq, Charles Barkley and Kenny Smith talking to Jason Collins during Tuesday's edition of Inside the NBA. 
**
WINGNUTTERY
ESPN's Chris Broussard is not backing down from his recent display of bigotry and one NOM leader is proud of the "courage" he is showing. The Daily Beast has fired columnist Howard Kurtz after he published a completely false report that Jason Collins had failed to disclose his previous engagement to a woman.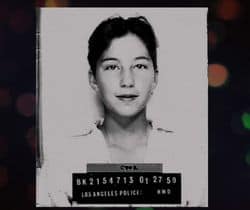 A real estate agent in the Toronto area recently threw in a little homophobia with some sales brochures he distributed by including a ridiculous anti-gay study. The mayor of Dallas thinks that gay marriage resolutions are "a waste of time" and an evangelical group is hoping that Ethiopia imposes the death penalty for gays. 
**
ENTERTAINMENT
Cher appeared on The Tonight Show with Jay Leno last night and was thoroughly embarrassed by her mugshot from when she was 13. Check out the video for Janelle Monae and Erykah Badu's "Q.U.E.E.N." and Seth Rogen thinks that Zac Efron is super sexy.