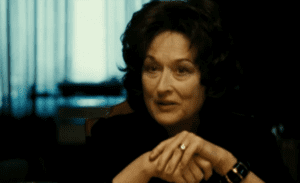 BY SAM GREISMAN
A look back at today's top stories
ENTERTAINMENT
Author and one of the world's funniest men, David Sedaris sat down with Jon Stewart last night to discuss his latest book and all the ridiculous people he meets on his book tour. The first trailer for the film adaptation of August: Osage County has arrived and though we just finished an exhausting awards season, it will surely stoke the flames of 4th Oscar talk for Meryl Streep. The major networks have been revealing their new shows at the upfronts in New York this week and NBC has announced that one of its new comedies will star Sean Hayes as a 'world-saving' gay dad. 
If you are interested in learning more about the U.S. Government's gay 'witch hunts' from the 50's and 60's, check out the new clips from Lavender Scare and check out the filmmakers' kickstarter. And Jimmy Kimmel is back with more celebrities reading nasty tweets directed at them. 
**
WINGNUTTERY
Good news if you are gay man who wants to try out for the New York Jets; linebacker DeMario Davis will welcome you even though he knows you are going to hell. How nice of him. Also police say they have arrested two men in connection with a brutal attack on a gay couple in midtown Manhattan early this morning.
**
VIDEOS OF THE DAY
Call me crazy, but this virtual roller coaster doesn't look that fun. And nearly 80,000 people want to go to Mars and never be seen again.