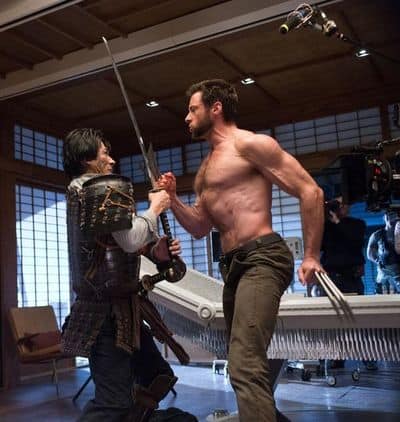 PHOTO OF THE DAY: Hugh Jackman shows off his Wolverine abs.  
BY SAM GREISMAN
A look back at today's top stories
ENTERTAINMENT
A biopic about actress turned anti-gay activist Anita Bryant is in the works and it seems that Uma Thurman is the producer's choice to play the lead. The ACLU is urging the producers of ABC's hit Modern Family to write in a marriage for its two gay characters (Mitch and Cam) so that marriage equality will remain in the minds of the American population. Check out the trailer for a new film that chronicles a gay romance in the early days of the AIDS epidemic and Diddy is the newest resident of Downton Abbey. 
**
WINGNUTTERY
It is not a good time for sanity in the state of Texas: the bigoted loser of a recent city council election in Dallas went from leaving a homophobic rant on a reporter's voicemail to distributing anti-gay leaflets at last night's meeting. The Texas House also just passed a ridiculous amendment that would allow the state's universities to openly discriminate against gays. 
Michael Jackson may have died over three years ago but that won't stop the sexual abuse allegations from coming out; this time from choreographer Wade Robson, who twice testified in defense of the pop star. Also it should come as no surprise that Fox News doesn't care about all the recent marriage equality news. 
**
GAY NEWS
Openly gay NBA center Jason Collins and his twin brother Jarron sat down with Jimmy Kimmel last night to discuss Jason's coming out and how often Jarron has been mistaken for his gay twin. The LGBT Student Union at San Diego State University has decided to change their name to the Queer Student Union and some are confused about it. After being cut by the Minnesota Vikings, gay rights activist Chris Kluwe has found a home with the Oakland Raiders. Is the proximity to San Francisco a coincidence? And gay ally Ben Cohen is the new master of cuddling. 
**
VIDEOS OF THE DAY
Chelsea based and gay-owned clothing company Nasty Pig has released its latest video lookbook. Also if you plan on wearing the new Google Glass then you might want to learn how to avoid looking like a complete douche.