The UK's marriage equality bill, under threat yesterday, was saved by a deal with the Labour party, the Guardian reports: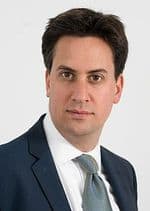 The government's gay marriage bill was saved after David Cameron was forced to rely on Ed Miliband (pictured) to defeat an attempt by his own MPs to derail the measure by trying to extend civil partnerships to heterosexual couples.
An 11th-hour plea to the Labour leadership by the Tory chief whip Sir George Young, who warned that the government was in danger of losing the vote, prompted a change of heart by Miliband, who had been planning to abstain on the amendment.
The Labour move meant that the amendment, tabled by the anti-gay marriage Tory and former children's minister Tim Loughton, was defeated by 375 to 70 votes, a majority of 305.
The decision by the Labour leadership, which has gone from supporting the amendment on civil partnerships to rejecting it within the space of 24 hours, means that the marriage (same-sex couples) bill will now experience a safer journey through parliament.
More here…