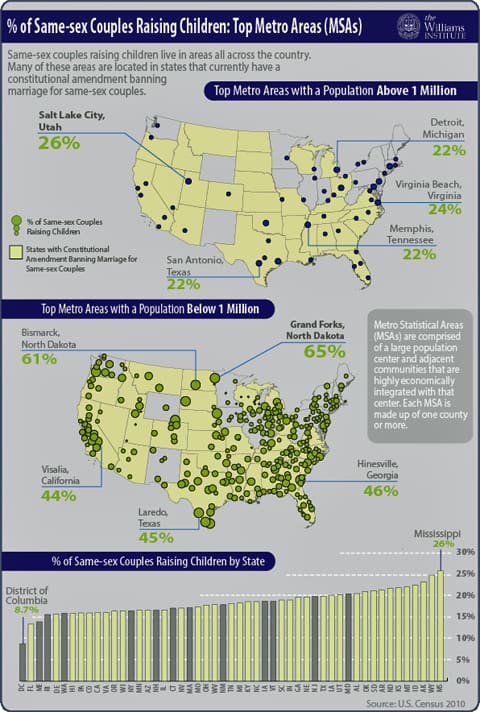 Some interesting statistics from The Williams Institute at the UCLA School of Law.
The L.A. Times reports on their findings:
But the reality for gay parents can be very different, said Gary J. Gates, the researcher behind the new estimates from the Williams Institute at the UCLA School of Law.
For instance, "a big chunk of them are people who had children young, with opposite-sex partners, before they came out," Gates said. After coming out, they raised those children with a partner of the same sex, he explained.
That may be one reason that in some more conservative places not known for celebrating gays and lesbians, a striking percentage of same-sex couples are rearing children, Gates said. Among states, Mississippi has the highest percentage of gay or lesbian couples raising children — 26% — his analysis of census data found.
Though Salt Lake City has a high percentage of gay couples raising children, the actual number is still much smaller than in coastal hubs such as New York or Los Angeles, the data show. Besides the Utah capital, other large urban areas where gay couples are more likely to have children include Virginia Beach, Va., Detroit and Memphis, Tenn. — all places where more than a fifth of couples of the same sex are bringing up kids.