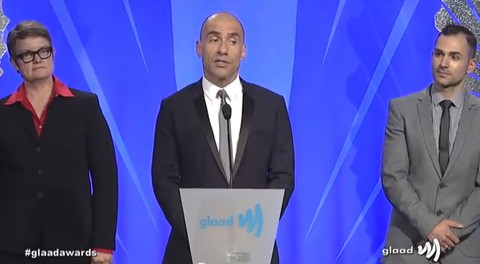 Flanked by Kris Perry, Sandra Stier, Jeff Zarrillo and Paul Katami, the plaintiffs in the Prop 8 case, attorney Steve Warren spoke passionately at this weekend's GLAAD Media Awards in San Francisco about the Supreme Court's consideration of marriage and the coming June ruling on DOMA and Proposition 8.
Warren urged the conservative justices, particularly Scalia, to take a deeper look than he has in the past:
"Picture this image. The nine justices are sitting at an oval table in their conference room, deliberating these cases, deliberating our fate. When one of the justices brings up a line of reasoning used by our opponents that goes like this: marriage is an age-old tradition reserved for opposite sex couples that is needed to encourage society's interest in procreation. So, When Justice Antonin Scalia, a man who has repeatedly debased our families and our community, takes up this line of attack, and looks to one side and sees Justice Thomas and to his other side and sees Chief Justice Roberts, two men who have created their families through the beauty of adoption, just as I have done myself with my daughter Katie, we would all hope that the hypocrisy of this argument would dawn on him and move him."
Watch Warren's speech, AFTER THE JUMP…