Today, 2,755 cyclists began the 20th annual AIDS/LifeCycle ride, a 545-mile, 7-day bike ride from San Francisco to Los Angeles that raises funds for the San Francisco AIDS Foundation (SFAF) and the HIV/AIDS-related services of the Los Angeles Gay & Lesbian Center (LAGLC). These men and women collectively raised a record $14.2 million from individual donations ranging from $1 to thousands of dollars.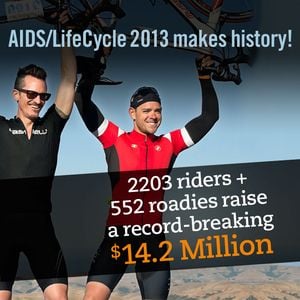 Since the beginning of AIDS/LifeCycle in 1993, cyclists are about to pass the 20 million mile mark, or the equivalent of going back and forth to the moon 40 times or around the world 800 times. That takes some extraordinary quad muscles!
As a member of the NYC branch of Team Funky Monkey (though regrettably not riding this year), a special shout out to all the Monkeys, who were among the most prodigious fundraisers this year. And an extra special tip of the hat to my Funky Monkey teammate Joseph Conforti, who, according to the final fundraising totals, was the second highest fundraiser outside of California (and top 10 fundraiser overall) with over $33,000 raised!
Said Lorri Jean, LAGLC CEO:
"I'm absolutely astounded and enormously grateful for the 20-year fundraising record set by this year's riders and roadies, especially since the need for these funds has never been greater. Today we have the tools to stop the spread of the disease and to help people with HIV live longer, healthier lives, but the epidemic is far from over."
Neil Giuliano, head of the SFAF, echoed Ms. Jean's thoughts:
"It's difficult to find a community more dedicated to a cause than the participants of AIDS/LifeCycle, and this year's record fundraising shows it. At a time when HIV/AIDS services face potentially devastating cuts at all levels of government, it's tremendously encouraging to see the AIDS/LifeCycle community step up in such a substantial way to make sure we can continue to provide the life-saving services to all people living with or at risk for HIV."
Look forward to Towleroad coverage of AIDS/LifeCycle 2013 this week. We'll be providing videos and stories from the ride made available exclusively to Towleroad.