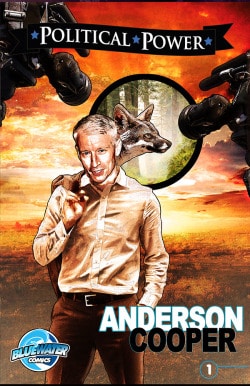 Anderson Cooper has a long line of titles to his name.  CNN news anchor, talk show host, and most recently, Vito Russo Award honoree at the GLAAD Media Awards. He is also a bonafide gay icon and quite possibly journalism's hunkiest, and smartest specimen.
 
Now, Mr. Cooper can add comic book hero to his credits.  
Released on June 6th, Political Power: Anderson Cooper finds the reporter starring in his own comic book. The 24-page chronicle, published by Bluewater Productions and written by Michael Troy, tracks the life of the Vanderbilt-bred Cooper. The iTunes description reads:
Born with a silver spoon in his mouth, the silver fox chose to follow his passion [for] journalism with a vengeance. Join writer Michael Troy…for an account of his life from decorated journalist to out and proud gay man. 
This book is one in an acclaimed series of Bluewater Productions' political comics, which include the stories of Joe Biden, George W. Bush, and Ron Paul.  
The comic book is available on iTunes for $1.99 and at Comic Flea Market for $3.99.