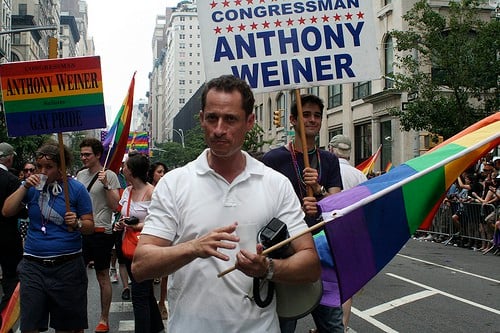 Anthony Weiner has responded to a growing controversy over his "lack of moral outrage" after a constituent referred to NYC mayoral contender Christine Quinn as a "dyke."
The controversy started after a brief exchange with a woman whom he was trying to get to sign his mayoral candidacy petition:
"You a registered Democrat?" he asked an elderly woman wheeling a shopping cart by him.
"I am," she said. "And I'm not voting for uh, what's her name? The dyke."
"Okay.
I just need you to sign the petition to get me on the ballot," said
Weiner, who then noticed the incredulous reaction of a reporter and
added, "and you really shouldn't talk that way about people."
"Oh, I'm sorry," the woman said.
"It's okay," Weiner responded. "It's not your fault."
Weiner's campaign released the following statement today after growing pressure from outraged politicians and individuals upset at his response. From the Washington Post:
"Homophobia is vile and destructive and something I have fought against for the entirety of my career, including being a vocal supporter of gay marriage since 1998 and standing up on the floor of Congress for transgender Americans. I admonished the woman amid a large crowd on a street corner and by no means believe that anything about her comment was appropriate. If the impression is that I did, I apologize because behavior like this will absolutely not be tolerated in my administration."
(Photo by Boss Tweed via Flickr.)