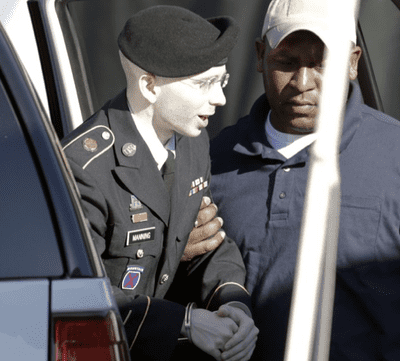 Via Reuters executive editor Jim Roberts, who tweets: "Is Bradley #Manning getting any sunlight?"
Manning's former supervisor is set to be called to the witness stand today:
Jihrleah Showman has already appeared before the court at Fort Meade, Maryland, having attended the first pre-trial hearing that was held in December 2011. On that occasion, she related how Manning had punched her during a violent outburst that led to him being demoted to the rank of private.
Showman also recounted other erratic behaviour from Manning, including an incident in which she feared that he had reached for a gun, and went as far as to say that in her opinion he should never have been allowed to deploy to Iraq because he was a "threat to himself and to others".
Showman will be called by government lawyers as they seek to drive home their case: that Manning was fully aware that what he was doing, in carrying out the largest leak of state secrets in US history, could put the nation in harm's way and benefit foreign adversaries.