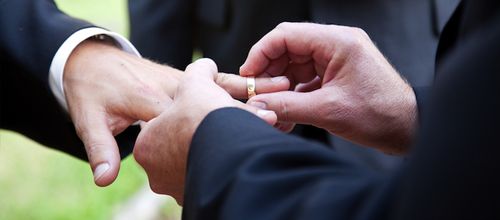 Foreign same-sex couples who married in Canada might just have to wait "until death do us part" to end their marriage.
Reports Maclean's:
Canada has not yet legalized same-sex divorce for non-residents. And since these couples' home countries don't recognize their marriages to begin with, they're more or less locked into matrimony.
There's a bill before Parliament to fix this problem. It's called the Civil Marriage of Non-residents Act, and would have been more aptly named the Quickie Divorce Act. Complicated issues like division of assets, spousal support and custody of dependents? Don't worry, that all falls to the courts in your home country. Sign here and here, and congrats, you're single.
That bill, though, is not likely to make it past the second reading before parliament is out for the summer, meaning many more months until the bill has cleared all of its hurdles. And there's also a risk that Prime Minister Stephen Harper could prorogue parliament, which would effectively put the bill back to the starting line, meaning potentially many more years until these couples can put their big fat Canadian wedding behind them.